ATHENS HILTON
Hilton Hotel



The hotel is located on Vasilissis Sofias, close to the city center, opposite the National Art Gallery and within walking distance of most of Athens attractions. It is a nice area, but noisy. The embassies and consulates line the Vasilissis Sofias and on the interior streets there are prestigious condo building and homes with flower-laden balconies.

We had a spacious room with a balcony offering a spectacular view of the Acropolis and a large swimming pool that we used only once. Although the temperature in Athens was in the 80's the temperature in the pool was 72 degrees.

Our most memorable night was sitting on our room's balcony, with a magnificent unobstructed view of the Acropolis, drinking Grand Prix sparkling wine, and sharing memories of the past with each other.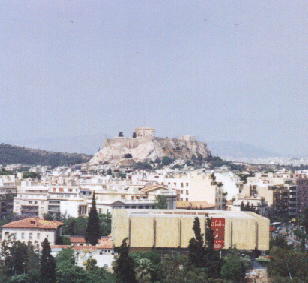 View of the Acropolis from our balcony.
Even though it is always smoggy and
hard to see clearly at a distance, this
was still a marvelous view.